RANTHAMBORE TOUR & TRAVEL
Ranthambhor National Park, before a princely game conserve is the scene where the celebrated Indian Tiger is best seen. Ranthambhor Tiger Reserve lies on the junction of Aravali and Vindhyas just 14 Kms from Sawai Madhopur in Eastern Rajasthan. It sprawls over a varying and undulating landscape.
The scenery changes dramatically from gentle and steep slopes of the Vindhyas and sharp and conical hills of the Aravali. A tenth century fort also blends amicably with the background.
Pure sands of Dhok (Anogeissus pendula) interspersed with grasslands at the plateaus, meadows in valleys and luxuriant foliage around the canals make the jungle. Three big lakes – Padam Talab (meaning Lake), Malik Talab and Raj Bagh – are similar turquoises studded in the vast forest that abounds with aquatic vegetation including duckweeds, lilies and lotus.
A significant geological feature within the park is the 'Great Boundary Fault' where the Vindhaya plateau meets the Aravali range. The Rivers Chambal in the South and the Banas in the North bound the National Park.
The park is dotted with steep rocky hills and the dominating architecture of Ranthambhor Fort (built in the 10th century), adds to its landscape. The rugged park terrain alternates between dry deciduous forest, open grassy meadow, dotted by several lakes and rivers that are only made passable by rough roads built and maintained by the Forest Service.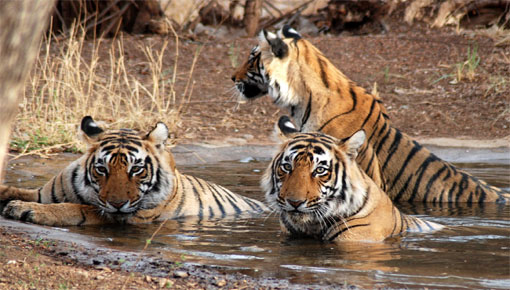 Ranthambore National Park
Ranthambore National Park is famous for its Tigers and is a favorite with photographers. For a relatively small area, the park has a rich diversity of fauna and flora - species list includes 300 trees, 50 aquatic plants, 272 birds, 12 reptiles including the Marsh Crocodile & amphibians and 30 mammals.
For the wildlife savvy, Ranthambore wildlife sanctuary today offers an intense diversity of flora and fauna. Tigers, the park's pride makes it one of the best places in the country to observe them. Apart from that a large numbers of Sambar, Chital, Nilgai, Gazzelle, Boars, Mongoose, Indian Hare, Monitor Lizards and a large number of birds.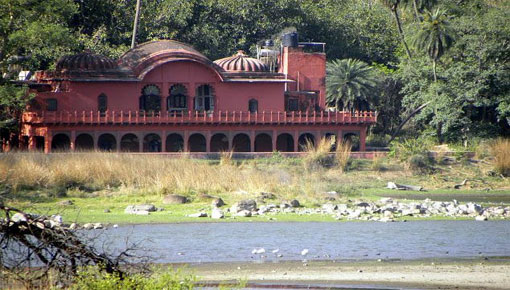 Ranthambore Fort & Jogi Mahal
With a coverage area of 392-sq-kms, this park got its name from the Ranthambhore Fort, which sits on a rocky outcrop in the heart of the Park. The fort, which dates back to the 10th century and is probably the oldest existing fort in Rajasthan, was a vital citadel for control of Central India and particularly the Malwa plateau.
The entry point to the Ranthambore National Park, goes straight to the foot of the fort and the forest rest house, Jogi Mahal. The latter boasts of the second-largest Banyan tree in India.