DHOLPUR TOUR & TRAVEL
Formerly known as Dhawalpuri, the city of Dholpur boasts of a rich history that fascinates every visitor. It was established by a small time ruler named Dhawal Deo who named the city after himself.
Dholpur was a relatively small kingdom but had a very turbulent history, the reason being its strategic location on the main route linking Kabul to Delhi. Besides, its proximity to some powerful cities like Gwalior, Agra and Bayana attracted many rulers who wished to take advantage of its strategic location. The brave rulers of Dholpur always did their best to resist every attempt to subjugate them, however, the city regularly suffered at the hands of the invading forces.
From Sikander Lodi in 1501 AD to Babur in 1526 AD, Dholpur was repeatedly attacked by neighboring kings and was almost razed to the ground. During Humayun's rule, the site of Dholpur town was moved northwards to avoid erosion by the river Chambal.
Two important Mughal wars were fought near Dholpur, the first being the one when Aurangzeb defeated his brother Dara Sikoh in 1658. The second was a war of succession fought between Aurangzeb's sons in 1707 AD.
IMPORTANT INFORMATION
| Area | Population | Languages | Best Time to Visit | STD Code |
| --- | --- | --- | --- | --- |
| 3084 sq km | 982,815 (2001 census) | Hindi, English, Rajasthani | October To March | 05642 |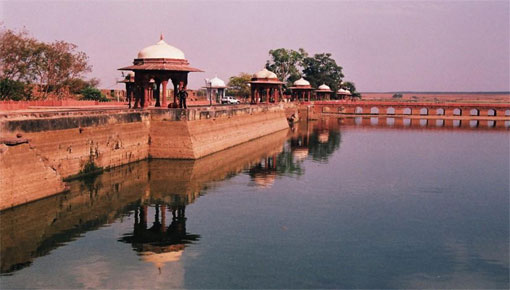 Talab Shahi
This beautiful lake is situated beside a hunting lodge built for Shah Jahan in 1617 AD. Situated 40 km away from Dholpur, the lake attracts a large number of winter migratory fowls like the Pintail, Shoveller, Red Crested Pochard, Comnion Pochard, Tufted Duck, Common Teal, Garganey Teal and Gadwall.