CHITTORGARH TOUR & TRAVEL
The pride of Rajasthan, Chittorgarh still reverberates with the tales of its glorious but turbulent past. It is a land where the ideals of chivalry, sacrifice and honor were always worshipped. Today, all that remains of those glorious times are the ruins of forts, palaces and temples that have nevertheless managed to retain their old grandeur.
Chittorgarh has been a witness to some of the bloodiest battles fought on Indian soil. The city itself was ravaged thrice staring with Alauddin Khilji's attack in 1303 AD followed Bahadur Shah in 1533 AD. Mughal Emperor Akbar attacked the city for a third time and razed the Chittorgarh fort to the ground. The fort was never inhabited after that attack.
Every time Chittorgarh was attacked, its brave populace left no stone unturned to defend their honor to the last breath. As the men rode out to meet their adversaries on the battlefield, the women and children would light a huge pyre and immolate themselves in order to escape the marauding enemy.
Today, Chittorgarh is synonymous with the tragic tale of Queen Padmini who chose death over dishonor by committing 'Jauhar' or self-immolation with other women. It happened that Alauddin Khilji was so overwhelmed by her beauty that he attacked Chittorgarh with the sole motive of possessing her. However, queen Padmini foiled his plans by taking the brave decision of facing death before giving him any chance to fulfill his aim.
The spirit of sacrifice still lives on amidst the ruins of Chittorgarh. In fact, a visit to this city truly adds up as an experience to remember for a lifetime.
IMPORTANT INFORMATION
| Area | Population | Altitude | Languages | Best Time to Visit | STD Code | Location |
| --- | --- | --- | --- | --- | --- | --- |
| 6.5-sq-kms | 1,802,656 (2001 census) | 408 meters | Hindi, English, Rajasthani | September to March | 01472 | 90-km From Udaipur, Rajasthan |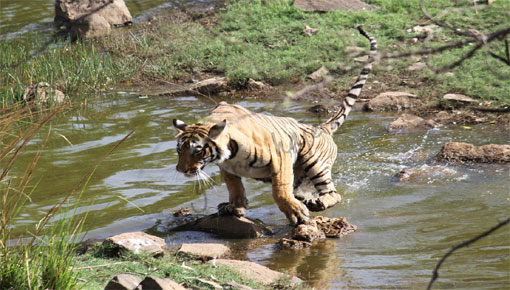 Sita Mata Sanctuary
This sanctuary sprawls over the Aravalli ranges and the Malawi plateau with three rivers flowing through it. Legend has it that Sita, wife of Lord Rama stayed in a hermitage located within this jungle after she was exiled by her husband. The animal populace is represented by the Leopard, Hyena, Jungle Fox, Porcupine, Sambhar, Wild Bear, four-horned Antelope and Nilgai.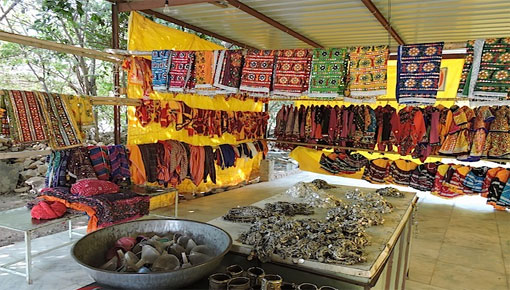 CHITTORGARH - SHOPPING
Chittorgarh is known for its wooden toys, 'Thewa' articles, printed fabrics and leather mojris. Some of the most popular shopping hubs in Chittorgarh are Sadar Bazaar, Rana Sanga Market, New Cloth Market, Fort Road Market, Gandhi Chowk and Station Circle.